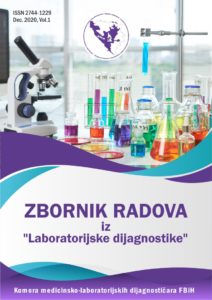 Zbornik Vol 1, Decembar 2020.
Klinički značaj određivanja fenola
Clinical significiance and determination of phenol
Sedina Omeragić
SARS-CoV-2,  virus kojeg tek znanost otkriva
SARS-COV-2, the virus science is yet to discover
Mirnes Karić, Amir Ibrahimagić
Beta-laktamaze proširenog spektra djelovanja kao uzrok širenja otpornosti bakterija na antibiotike
Extended spectrum beta-lactamases as a causes of the spread of bacterial resistance to antibiotics
Amir Ibrahimagić
Utjecaj radnog mjesta i radne okoline na vrijednosti laboratorijskih biomarkera
Influence of workplace and work environment on the laboratory biomarkers values
Jasmina Kišija-Bajrić
Unutrašnja i spoljna kontrola kvaliteta rezultata u kliničko-biohemijskoj laboratoriji
Internal and external quality control of results in clinical-biochemical laboratory
Lidija Milkovska, Tatjana Ruskovska, Ankica Pop-Kostova
Kliničke manifestacije i laboratorijske osobitosti influence u sezoni 2017/18
Clinical manifestations and laboratory findings of seasonal Influenza 2017/2018
Tea Kosir, Mirjana Stupnišek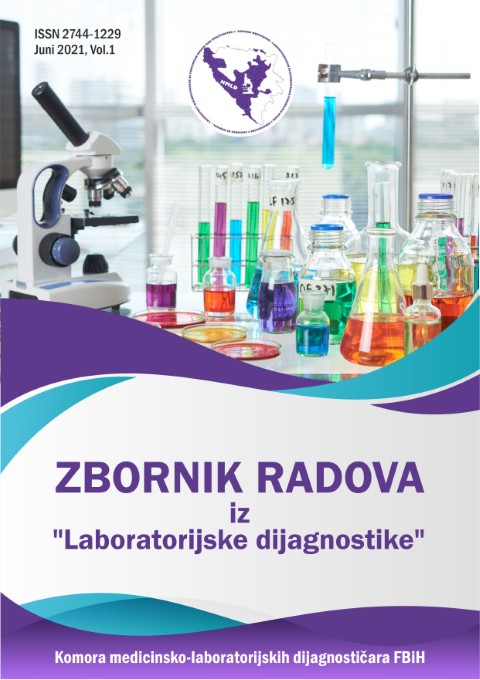 Zbornik Vol 1, Juni 2021.
Retrospektivna analiza učestalosti infekcije Hepatitis B virusom na temelju serološko-molekularne dijagnostike u Zeničko-dobojskom kantonu
Retrospective analysis of the frequency  of Hepatitis B virus infection on the basis of serological-molecular diagnosis in Zenica-Doboj Canton
Mirnes Karić, Amir Ibrahimagić, Amela Hercegovac
Bruceloza ovaca u Zeničko-dobojskom kantonu
Sheep Brucellosis in Zenica-Doboj Canton 
Aida Šanjta-Reis
Uticaj terapijskih modela kod pacijenata s diabetes mellitus tip 2 na prosječnu vrijednost HbA1C
Influence of therapeutic models in patients with Diabetes mellitus type 2 on the average value of HbA1C
Maida Imamović, Emina Smajić, Aleksandra Pašić
Istraživanje crijevnih parazita na području grada Zenica
Research of intestinal parasites in the city of Zenica.
Ajna Kapidžić
In vitro ispitivanje antibakterijske aktivnosti oralnih vodica za ispiranje usne šupljine na sojevima Candida albicans
In vitro study of the antibacterial activity of oral mouthwashes on Candida albicans strains
Jasminka Talapko, Anamarija Aleksić, Maja Tomić-Paradžik, Ivana Škrlec
Značaj praćenja i određivanja mikotoksina u prehrambenim proizvodima
Importance of monitoring and determination of mycotoxins in food products
Amir Ibrahimagić
Značaj detekcije Humanog Papillomavirusa
Significance of Humane Papillomavirus detection
Selma Mujkić